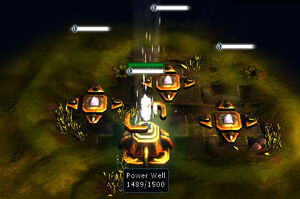 Your basic source of income in BattleForge is Power Wells. Power Wells feed Power into your Power Pool at a set rate.
The simplest way to gain more Power is to build more Power Wells.
Additionally, you can summon creatures near Power Wells without Summoning Sickness.
There are even a few cards that can affect the output of your power wells.
One thing to be aware of is that Power Wells do not give Void Power when they die. Each Power Well has 2000 health points. Protect them as well as you can.
See Also
Edit
.

Ad blocker interference detected!
Wikia is a free-to-use site that makes money from advertising. We have a modified experience for viewers using ad blockers

Wikia is not accessible if you've made further modifications. Remove the custom ad blocker rule(s) and the page will load as expected.