This article is a Stub, which is another word for an incomplete page.

It is either very short, or it is missing important details that are needed for it to be considered a full length article.

You can help BattleForge Wiki by expanding it.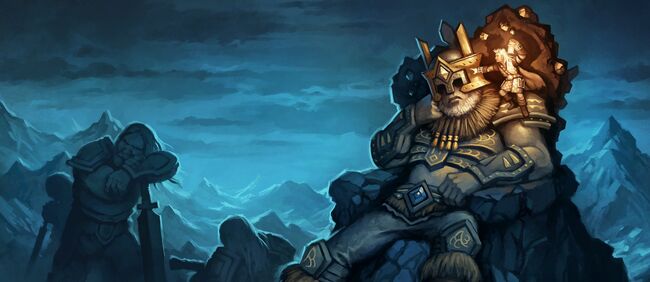 King of the Giants

Scenario Overview
# Players
Four-player
Difficulty
Standard, Advanced, Expert
The
King of the Giants
Scenario
is a Four-player map that can be played on standard, advanced, and expert difficulties.
Protect Rogan on his way to the north.
Walkthrough
Edit
This map can be soloed with Mana Wings to take out otherwise inacessible barriers at the start.
Standard Walkthrough Subsection 1
Edit
Standard Walkthrough Subsection 2
Edit
<TODO: If Advanced difficulty is available, provide walkthrough>
Advanced Walkthrough Subsection 1
Edit
Advanced Walkthrough Subsection 2
Edit
This map can be soloed, with difficulty, with a Fire / Nature deck that utilizes a good deal of Crowd Control spells, even the little-used Creeping Paralysis spell. Creatures with Swift, Flying, and wall damaging abilities are useful at the start (Scavenger units are Swift and can attack the same wall section two at a time, and Burrowers are Swift and have a wall-damaging Special Ability)[1]
Nightguards should be able to take control of the enemy Stonekin Rageflames at the first expansion base; despite their considerable power, and the Tier 3 status of the player-controlled version, the enemies only count as Tier 2 on Soultree map on Expert [2]
Expert Walkthrough Subsection 1Edit
Expert Walkthrough Subsection 2
Edit
For completing this scenario, players are granted some PvE Experience Points, Gold, and four Upgrade Cards.
Ad blocker interference detected!
Wikia is a free-to-use site that makes money from advertising. We have a modified experience for viewers using ad blockers

Wikia is not accessible if you've made further modifications. Remove the custom ad blocker rule(s) and the page will load as expected.