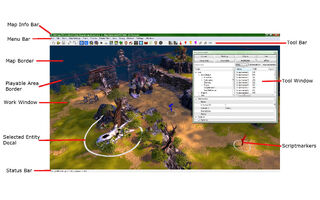 Map Info Bar
Edit
At the top of the screen is the Map Info Bar, which gives you an overview about the name of the map, the size, if its in an unsaved state and if you have access to the map file.

The Menu System gives you access to every tool or functionality in the editor to edit your map or change the view options. For a complete description click here.
Across the top of the Work window, the most commonly used tools and options are avaiable
as clickable icons.
Map Border
Edit
The map border fog smoothly separates the playable area and the non playable area.
Playable Area Border
Edit
This red square will show you where your units can walk and where they can't. The Visible Area is visualized by a blue square. EA Phenomic we will use both squares with the exact same size.
Tool Window
Edit
In the Tool Window you can configure the settings of the tool or the entities you are
placing. Each Tool has his own window which can be moved around and scaled. You can select them
via the Tools Menu.
Work Window
Edit
This is the main window in the editor, the Work Window is where all of the terrain, textures and entities are placed and manipulated.

Selected Entity Decal
Edit
The Selected Entity Decal, also called donut, shows you the currently selected
entity/entities.

Scriptmarkers
Edit
With Scriptmarkers you can mark special areas in your map. Scriptmarkers can be named (tag). Named (tagged) Scriptmarkers can be used by the script.
Status Bar
Edit
At the bottom of the screen, the Status Bar display current mouse-cursor positional, height and slope information. For more informations about the Status Bar click here.
Ad blocker interference detected!
Wikia is a free-to-use site that makes money from advertising. We have a modified experience for viewers using ad blockers

Wikia is not accessible if you've made further modifications. Remove the custom ad blocker rule(s) and the page will load as expected.